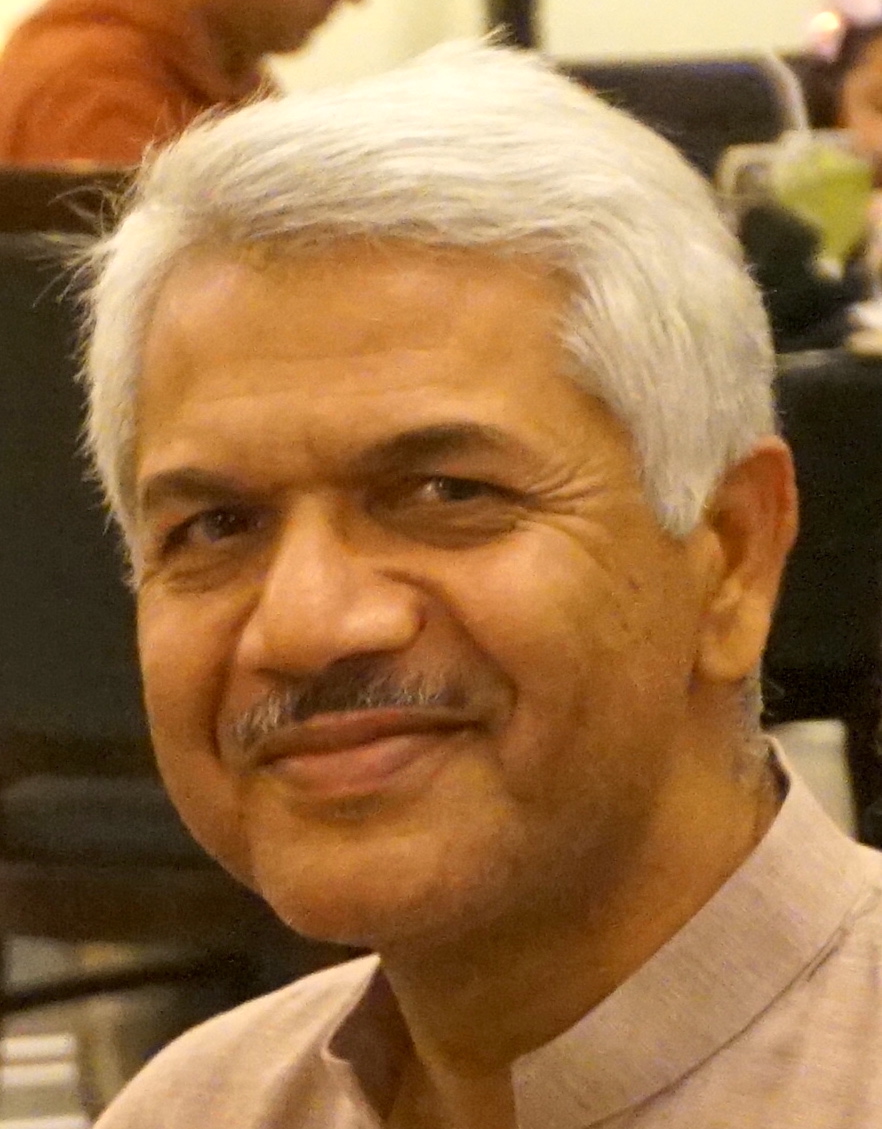 Managing Partner, dev~consult
With more than 31 years of experience in policy analysis and development, strategy formulation and action planning, sectoral capacity assessment and reform planning, social and environmental safeguards management, proposal writing and review, project design, implementation and reporting, and evidence-based monitoring, evaluation and impact assessment, I have designed and led various assignments with ADB, Asia Foundation, DAI, Danish Red Cross, GIZ, Karandaaz, Korn Ferry, NRSP, PPAF, RSPN, SDC, UNDP, UN Women, USAID, WaterAid, Winrock International and other clients. Having strong interpersonal communication skills, I have forged strategic linkages within the public and development sector.
Supported by a diverse group of Affiliates at the dev~consult, I focus on business development, assignment design and management, and leading assignments with my thematic niche.

Since July 2022, I have also assumed position of Senior Advisor (Pakistan) at the Globesight, a global development firm working collaboratively with innovative partners to craft solutions to the world's most pressing social issues. With hubs in Dubai and Islamabad, Globesight has a growing presence across the Middle East, South Asia, and Africa.
Current Assignments
Project Design Expert for SAFER Pakistan Proposal (Aug 2023 – Feb 2024) for ICIMOD
Project Lead for KP Climate Adaptation Plans (Aug 2023 – Feb 2024) for WWF Pakistan
Feasibility Study for Enhancing Green Export Capacity (Sep–Dec 2023) for NRSP/CRCC
Team Lead for Balochistan Climate Change Policy (Jul–Dec 2023) for UNDP
Team Lead for Pakistan Country Framework for GCF (Dec 2022 – Sep 2023) for NRSP/GCF
Completed Assignments
International Evaluator for appraisal of Local Adaptation to Climate Change in Nepal (Jul–Aug 2023) for Ministry of Foreign Affairs of Finland
Project Design Consultant for EHS Change Offer Design (Jan–May 2023) for GIZ
Team Lead for Damage & Need Assessment of Ziarat Junipers Biosphere Reserve (Dec 2022 – Apr 2023) for UNESCO
Nature Conservation Advisory at Prince Muhammad Bin Salman Nature Reserve (Dec 2022 – Feb 2023) for Korn Ferry
Proposal development for Climate Smart Villages (Sep 2019 – Jan 2023) for NRSP
Assignment Lead for SCRC Evaluation (Jun–Aug 2022) for the Asia Foundation
Team Lead for Environmental and Social Safeguards Assessment at Karandaaz (Jan–Jun 2022)
Nature Conservation Advisory at King Abdulaziz Royal Nature Reserve in the Kingdom of Saudi Arabia (Feb–May 2022) for Korn Ferry
Resource Person for USAID ERDA proposal (Jul–Aug 2021) for CNFA
Lead Consultant for Revision of PPAF's Environmental & Social Management Framework (May–Aug 2021)
Consultant for Report on Transboundary Environmental Issues in the Service of a Peace Process (Apr–Aug 2021) for Middle Easy Drought Research Centre
National Team Lead, Provincial Strategy for Inclusive and Sustainable Urban Growth in Khyber Pakhtunkhwa (Feb 2018 – Aug 2021) for ADB TA-9223 PAK.
Moderation for IFAD's Country Strategy and Programme Evaluation (May–Jun 2021)
Assignment Lead for Baseline Ecological Survey & Biodiversity Action Plan (Apr–Oct 2020) for ADB/LML TA-9458 PAK.
Assignment Lead for Empowerment of Women with Disabilities Project Evaluation (Aug–Sep 2020) for UN Women.
Assignment Lead for Economic Empowerment of Women Project Evaluation (Jul–Aug 2020) for UN Women.
Team Lead for developing GCF concept note on Strengthening REDD+ for RBPs in Pakistan (Jul–Sep 2020) for NRSP.
Project Coordination Specialist for Khyber Pakhtunkhwa Cities Improvement Project (Jan 2018 – Nov 2019) for ADB TA-9400 PAK.
Assignment Lead for Baseline Ecological Survey (Oct–Nov 2019) for ADB/LML TA-9458 PAK.
Sector Specialist Environment for Merged Areas Programming in Khyber Pakhtunkhwa (Apr–Aug 2019) for UNDP.
Team Leader for Review of Water Governance of Domain (Feb–Jul 2019) for SDC.
Senior Strategy Advisor (Feb 2018 – Jun 2019) for PPAF.
Assignment Lead for Public-Private Partnership for Peshawar (Jul 2017 – Feb 2018) for USAID/DAI.
Team Lead for Community Based Disaster Risk Reduction Programme in AJK (Nov–Dec 2017) for Danish Red Cross.
Team Lead for Endline Survey and Final Evaluation of Manoor Valley Programme in KP (Oct–Dec 2017) for Danish Red Cross.
Consultant for Country Snapshot on Water Scarcity in Pakistan (Oct–Nov 2017) for FAO/IWA.
Team Lead for Development of Environmental, Social and Statutory Framework for NRSP (May–Nov 2017).
Consultant for PM&E Session for GCF Readiness Support (Sep 2017) for NRSP.
Consultant for Improving Water Governance in KP & FATA (Apr–Sep 2017) for USAID/Winrock.
Team Lead for External Review of Water for Livelihoods Project (Apr–Jul 2017) for SDC.
Team Lead for Development of Strategy and Guidelines for Introducing Payment for Ecosystem Services Approach in Pakistan (Nov 2016 – May 2017) for GEF/UNDP.
Assignment Lead for Development of Tharparkar Water Security Plan (May 2016 – Jan 2017) for WaterAid/Sukaar Foundation.
Consultant for Evaluability assessment of CABI's Plantwise programme (Jul–Nov 2016) for DAI Europe.
Environment Specialist for Diagnostic Study of Punjab EPA (Oct 2016) for ADB TA-8912 PAK.
Management support to Punjab Intermediate Cities Improvement Investment Program (Sep 2016 – May 2017) for TA-8683 PAK.
Environment Specialist to prepare ESMS arrangements (Aug–Sep 2016) for ADB for SC-107711 PAK.
Sr. Advisor to Pakistan Poverty Alleviation Fund as Senior Advisor, Compliance and Quality Assurance (May–Sep 2016).
Team Lead for Development of Project Completion Report of SDC's School Reconstruction Programme (Apr–May 2016) for SDC.
Team Lead for Development of Climate Change Adaptation Case Studies (Mar–May 2016) for RSPN.
Team Lead for developing Khyber Pakhtunkhwa Biodiversity Strategy & Action Plan (May 2015 – Jun 2016) for GIZ.
Consultant for KP & FATA Water Governance and DRR Review (Jan–Feb 2016) for SDC.
Sr. Advisor to Pakistan Poverty Alleviation Fund as Senior Advisor, Compliance and Quality Assurance (Mar–Dec 2015).
Environment Specialist for Strengthening and Use of Country Safeguard Systems (Jun–Oct 2015) for ADB TA-7566 REG.
Environment Specialist for Environmental Safeguards for Public-Private Partnership in Punjab and Sindh (Jan 2014 – Mar 2015) for ADB TA-8443 PAK.
Sr. Advisor to Pakistan Poverty Alleviation Fund as Senior Advisor, Compliance and Quality Assurance (Dec 2014 – Dec 2015).
Environment Specialist for Country Assessment of Environmental Safeguard Capacity (Nov 2013 – Mar 2015) for ADB TA-7548 REG.
Team Lead for Biodiversity Sectoral Capacity Assessment in Khyber Pakhtunkhwa (Oct–Dec 2013) for GIZ.
Consultant for Finalization of Shangla District Development Strategy (Sep 2013) for OPM.
Chagai Environment + Socio-economic Baseline Study (May–Nov 1998)
9th Five Year Plan 1998/9-2002/3: Province of Balochistan [in Urdu] (Jul–Aug 1998)
District Profiles of Gwadar, Kech, Killa Saifullah, Kohlu, Musakhel, Panjgur, Awaran and Khuzdar Districts (Oct 1996 – Dec 1997)
Healthy City Project, Quetta (Jan–Mar 1996)
Second Family Health Project (Nov 1995 – Jan 1996)
Perceived Effectiveness of ASA and Voting Preferences (Jun–Jul 1995)
Subject and Occupational Preferences of Students (May–Jun 1994)
Small Scale Industries and Rural Development (Jan–Apr 1992)
---
Employment
International Union for Conservation of Nature

Served IUCN for more than 14 years (1999-2013), in various positions with an overall objective to ensure a coherent and robust programme of the Union in Pakistan. During these years, I contributed to the Union's mission through programme coordination, project management, strategies development, donor liaison, programme development, monitoring and evaluation, writing and editing number of programme and technical documents. During the last seven years, I was directly responsible to the Country Representative for providing advice on programmatic aspects of the Union's country programme in Pakistan, with an average portfolio of about US$ 4 million per annum. The positions I held in IUCN included:
Programme Coordinator, Pakistan Programme (Sep 2006 to Sep 2013)
Manager Programmes, Islamabad Programme Office (Aug 2005 – Aug 2006)
Deputy Manager, Pakistan Environment Programme (Aug 2003 – Jul 2005)
Deputy Project Director, NACS Support Project (Dec 2000 – Jul 2003)
Programme and Project Coordinator, Balochistan Programme (Jul–Nov 2000)
Programme Coordinator, BCS Project (Jan–Jun 2000)
Documentation Specialist, BCS Project (Aug–Dec 1999)

Key Assignments

Strengthening Environmental Justice (Jun 2011 – Sep 2013)
Murree Biodiversity Park (Apr 2010 – Sep 2013)
Punjab Sustainable Development Strategy (Sep 2008 – Aug 2013)
Mekong Water Dialogue (Sep 2012)
Revitalisation of Indigenous Water Management Systems in Balochistan (Jan–Dec 2011)
Ecosystems for Life: A Bangladesh-India Initiative (Jul–Sep 2010)
Working within the System and Living within the Means: Celebrating 10 years of GEF-Small Grants Programme in Pakistan (Sep 2003 – Feb 2005)
Pakistan Environment Programme (Aug 2003 – Feb 2007)
Northern Areas Conservation Strategy (Dec 2000 – Jul 2003)
GEF Proposal for Conservation of Juniper Forests in Balochistan (Jul–Nov 2000)
Balochistan Conservation Strategy (Dec 1998 – Jun 2000)
University of Balochistan
Before joining IUCN, I taught Social Psychology, Sociology of Education and Sociology of Population at postgraduate level and provided research and career guidance to students as Lecturer in Sociology at the University of Balochistan, Quetta, Pakistan for seven years (1992–1999).
---
Education
Formal Graduation
MPhil in Sociology (1995–1997, awarded in 1999) from the University of Balochistan, Quetta through two-year research programme on alienation in relation to urbanism and ethnicity.
MA in Sociology (1989–1991, awarded in 1992) from the University of the Punjab, Lahore in 1st class through two-year regular programme of 10 taught courses and a research based dissertation on authoritarianism and women's rights.
Additional
Certificate in International Water Law (2011), University of Dundee, UK.
Management Development Programme (2002), Lahore University of Management Sciences, Pakistan.