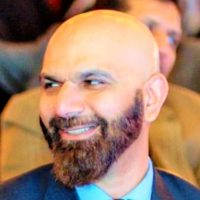 Financial Consultant
Certified Treasury Professional (CTP)
 Certified Global Management Account (CGMA)-Finalist
Mini Telecom MBA and Certified Trainer
Muhammad Ali Naseer is an experienced management professional with strong business acumen approach helping organizations become more successful and profitable through their Financial Strategies, Operational Excellence, Policies & Procedures, Transformation & Digitization and Resource Development. 
Ali has over 20 years of experience with local and offshore organizations in various finance and business functions including but not limited to Treasury & Corporate Finance, Procurement, Insurance, Financial Risk Management , Mergers & Acquisitions and Integrations, Partnerships, Compliance, Financial Analysis & Planning, Investors & Credit Ratings, Working Capital, Finance Operations, Business Process Re-engineering & Digital Transformation, Business Development, Project Management, Relationship Management, Net Promoter Score, Policies & Procedures and Outsourcing.
He has passion for facilitation through ease of business, facilitation, digitalization; Process Re-engineering, Policies & Procedures along with strong Internal Controls and People development. Digitally transformed many areas of finance including Corporate Accounting, Treasury, Working Capital, Insurance and Procurement and developed many resources. Ali has experience in outsourcing, SLA's and Motoring and Compliance and successfully outsourced multiple finance finances. During his career Ali has successfully managed financial strategies and managed funding of USD 1+ Billions of Loans and Treasury Operations, Insurance of USD 2+ Billion and Procurement of USD 100 Million. Local and International Credit Rating Agencies (S&P & Moody's) and Investor Relations Management. In addition to his experience, he is a certified trainer as well. During his career he has developed strong relationships with Financial Institutions, International Suppliers and regulatory authorities, SECP, SBP, CDC, PTA etc.